Windstar Kites

of

Greater Pittsburgh North
***Please bookmark this site for future reference!***
This page is dedicated to HOT & NEW happenings!
"NEW FEATURE - Search Engine for Windstar Kites"
SEARCH THIS SITE
Links to this search engine can be found at three locations within this site: "WSK Home Page", the "Site Map Page"
and the "Hot & New Page"



Skydancer... at Ocean Shores, Washington!


---

Skydancer "Mijet"

3/4 Size Skydancer, based on David David's
Skydancer "Enigma"

---
Now featured... the Jackite "Eagle"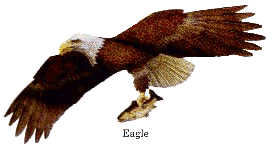 for the most realistic bird kite ever... choose the Jackite "Eagle"
(CLICK "Eagle" for more details on the Eagle and other bird kites)
Also be sure to check out our Patriotic Page


---
ANNOUNCING the landing of the...
"UFO"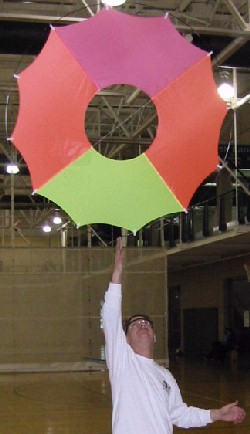 "Hot item "
Can be Single line, Dual line, Three line and Quad line flown!
Comes ready to fly for Single line flight.
---
---
Check out the NEW Windsocks & Spinners

---
Jim Rolands inflatables!

Con Engels is proud to annouce that Windstar Kites still carries kites desigend by Jim Rowlands,
Now made under license by Premier Kites!

"LeFrog"

---
Did you know that Windstar Kites is a retailer for...


To see Blue Moon Kites vist...
Blue Moon Kites
---
Also available in Adobe Acrobat

KiteSafetyFieldCard.PDF
Click for info on Kite Workshop Kits for Kids available from Con Engels
---

*****Check it out! New accessories page!*****
Many more pages to come. Check back often!


---

FREE Windstar Kites T-shirt
with first purchase of over $200.00*
Quantities Limited (see designs below)!

The designs below were a labor of love.
The original WSK design (top) took over
200 hours in image manipulation to come to
it's final design. Starting with the background
which was created with Photo Paint, then the
text and images were each overlayed. Each image
was taken from photos, and converted to bitmap.
I worked with over 25 kite images, before deciding
on the nine you presently see. The nine kites represent
the various types and variety of kites that are made today.
Included in the design are: a hand made Eddy, a Jackkite
Eagle, my Grandfather's (Pap) delta, a box, a Prism Illusion,
a High As A Kite Rokaku (Japanese fighter kite), a Skydancer,
a Skytiger HI 60 power foil, and a Revolution Supersonic!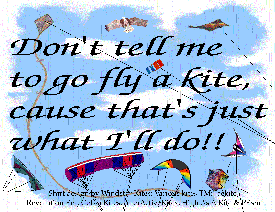 Original WSK T-Shirt Design
(9 kites within the design)
( limited quantity of these available)
NO Adult size Medium currently available
Available in Kids M & L and
Adult sizes S, M, XL, 2X & 3X
Click on images to enlarge.

T-Shirt Designs by Con Engels of Windstar Kites
Adult sizes SM-XL $16.00 / 2XL-3XL $18.00
Add $6.00 US shipping for one or two shirts (lower 48 States).
---

Congratulations to Lee Sedgwick for his record breaking Rev 1 stack!
(click HERE for details)
---
Hot
Prism "E-3"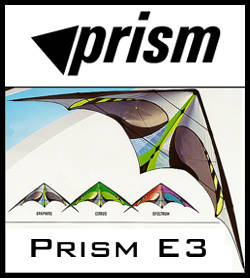 Click image for details!
---
---
As a service to the local Pittsburgh kiting community,
every effort is made to see that the above
listings of events are kept current.

Contact Con Engels at e-mail listed at the bottom of this page, for further details regarding these events,
or to schedule an event with members of Fly Pittsburgh Kite Club!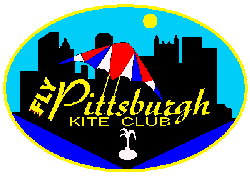 Looking for more information about the Fly Pittsburgh Kite Club
and our upcoming events! (CLICK "Fly Pittsburgh logo" for more info!)




---

ALL OF THE PRODUCT RIGHTS ARE OWNED, TRADEMARKED, and or REGISTER TRADEMARKED BY THE RESPECTIVE COMPANIES NAMED HEREIN.

---

Note: Windstar Kites pricing is already very reasonable, however, Windstar Kites will match any competitor's regular list price* The competitor's price must be at regular list price & not a special sale or limited time offer price. Limit of one item matched per customer.
* The customer must provide proof of price via fax or e-mail link to competitor's price for Windstar offer to apply. No further discounts apply to purchase. Also, no discounts apply to specials already listed throughout the Windstar Kites web site.

---
Shipping & Handling RATES
---



Con Engels - webmaster
Windstar Kites of Greater Pittsburgh North
203 Ridgeway Drive
Baden, PA 15005-2423, USA
Phone (724) 869-4488
E-Mail

---
Special WSK Prices listed on this and other pages within this site are for in stock items only. And, although every effort is made to maintain current listed prices, Windstar Kites reserves the right to change prices at any time, without notice! Please confirm prices when ordering.