Windstar Kites

of

Greater Pittsburgh North
*Special Discount Program for WSK list members*
Join our mailing list!
To join the WSK mailing list,e-mail Con Engels at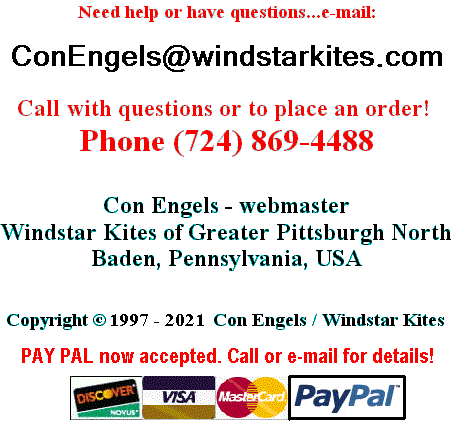 & in subject line type... "WSK List",
then in the body of the message give your name, address and type of kites you fly,
and you will be added to the Windstar Kites mailing list.
Information you give WILL NOT be sold or given to any outside source!
From time to time you will then receive e-mails telling you about special offers, and informing you about things going on at Windstar Kites.

Your information is never given out or sold to outside companies, hence you will not receive spam from companies soliciting to you, because of your list with Windstar Kites. You will only receive occasional messages from Windstar Kites, and the e-mail list is not exposed, so no one else will see your e-mail address.
Shipping & Handling RATES
---



Con Engels - webmaster
Windstar Kites of Greater Pittsburgh North
203 Ridgeway Drive
Baden, PA 15005-2423, USA
Phone (724) 869-4488
Copyright © 1997 - 2007 Con Engels
---
Special WSK Prices listed on this and other pages within this site are for in stock items only. And, although every effort is made to maintain current listed prices, Windstar Kites reserves the right to change prices at any time, without notice! Please confirm prices when ordering.