Welcome to
Let us not forget all those who were lost!

My sincerest sympathy and prayers go out to all those affected by the terrible acts of violence perpetrated against the US on Tuesday, September 11, 2001. I can not begin to express my feelings regarding this day. May we all remain strong in our convictions and in our belief in freedom. And may we all find the strength to carry on!




Con Engels, owner of Windstar Kites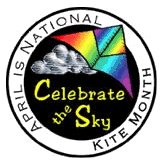 ---
What Windstar Kites is all about!
Whether at the beach, or flying at your local flying field, you will be sure to have fun with this great leisure activity. There are kites made for all different types of wind conditions, from high wind kites to zero wind kites. Windstar Kites is here to help you find the right kite for you. Some of the various types of kites are, single line, box, deltas, dual line stunt and sport kites, quad line, power kites, and even airplane models. Readily available are Flexifoil, HQ, Prism Design, Inter Active Kites, Peter Lynn, Revolution, New Tech, Premier, just to name a few manufacturers.
Modern kiting has evolved to an ever-changing complex science, using high tech materials, such as carbon and fiberglass for frame material. Dacron and Spectra is most commonly used for kite lines. Ripstop nylon, Polyester and Chikara ripstop are the predominate fabrics used (with others up and coming), and Kevlar is sometimes used for sail reinforcements. How to fly videos, books on flying and kite building, along with the supplies to build them are also available.
Con Engels of Windstar Kites is proud to be an active participant in many local community events and kite building workshops for children of all ages (even those of us that never quite grew up). He also attends regional and national kiting festivals. Along with Con, many other flyers enjoy kiting all year round, in varied weather conditions, rainstorms being the major exception (we all know what Benjamin Franklin did in his famous experiment involving a kite). Remember always to fly safely and follow these tips….
And you can click for a very handy detailed printable "Kite Safety Field Card"

---
Also available in Adobe Acrobat

A ONE PAGE Adobe Acrobat version of this Kite Safety Field Card can be found at... "Kite Safety Field Card 1 Page"


---
A TWO PAGE Adobe Acrobat version of this Kite Safety Field Card with Fly Pittsburgh Kite Club Membership info can be found at at"Kite Safety Field Card PDF"


---
Question... What happens to a kite when it comes in contact with power lines... Click here to see the Answer!

If you have any questions, or suggestions to improve this site, please feel free to drop Con Engels a line at...

---
***PLEASE BOOKMARK THIS SITE FOR EASE OF RETURN***
---
ATTENTION FLIERS OF ALL AGES:
Windstar Kites is a full service shop dedicated strictly to kites and wind related items, offering a wide range of products. Serving Pittsburgh, the rest of the United States, and the International Kiting Community. The only place in the Pittsburgh area for the very best in kite and wind related merchandise!
Order now by...

---
NEW "BILLY THE CRAB" Bouncing Buddy by HQ DESIGNS®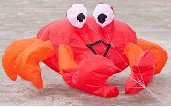 ---
Printed Banners, econonomically priced...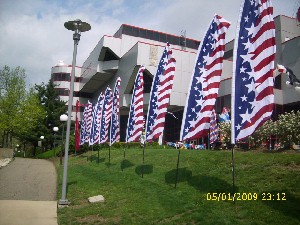 ..........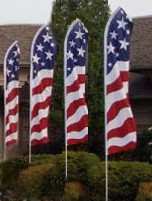 .
---
*** Click Here For ***
*****SITE MAP*****



---

The Fijet "Domino Lauch"
Check out the latest Fijet move!
Click on the thumbnail to view a special
MPEG movie clip of this phenomenal
Fijet manoeuvre (download 174 kb)
---
Types of kites sold by Windstar Kites...
(click on one of the links below to see our main online selections for each type of kite)
---

*****SITE MAP*****
Click this link to view the site map of this web site.
From there you can access most pages within the Windstar Kites site,
and also see some links to some other interesting sites.
"NEW FEATURE - Search Engine for Windstar Kites"
SEARCH THIS SITE
Can't find what you are looking for?
Click the above link to use this search engine
to find what you're looking for!
Shipping & Handling RATES
Fly Pittsburgh Kite Club
(find out about local Kiting Events & the best Pittsburgh area flying fields)


---
Skydancer™ &
Skydancer Shaped Quad Line™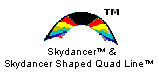 Note: The Skydancer™ quad line kite is Trademarked by David Davies and the Davies Family, along with David's unique signature shape of his quad line kites. Included within the Skydancer range of kites are...the Skydancer, Enigma, Swift, SkyHawk, SkyEagle, SkyBat, Fijet, Mijet, SkyComet, Skydancer Bewitched to name a few. Any use of these images is not permitted without consent of Windstar Kites and InterActive Kites™. The design of the Skydancer™ quad line kite is uniquely David Davies and is protected under Trademark laws! Windstar Kites now holds the exclusive license to produce the Skydancer range of kites. No other manufacturer, designer or kite maker is permitted to produce kites within the Skydancer range or shape without written permission of the Davies family!
---
Order now by...




E-Mail

---
---
Last Updated January 23, 2018.



Return to TOP OF PAGE

---


WSK Prices listed on this and other pages within this site are for in stock items only. And, although every effort is made to maintain current listed prices, Windstar Kites reserves the right to change prices at any time, without notice! Please confirm prices when ordering.