Revolution "B-Series Zen"
When nothing else will fly...
reach for the Revolution Zen!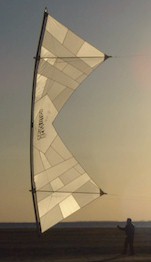 (photo by David Hathaway)

Wind range: 0-4 mph
"The ideal conditions for it are really about 2 - 9 mph" as quoted directly from David Hathaway!
Zens will be sewn and delivered in the order received. Sewn by Bazzer Poulter!
Signature Series Zen
co-designed by
John Barresi & Bazzer Poulter

Deposit of HALF down to order, then balance due upon shipping to you!

PLEASE NOTE:
The Revolution B-Series Zen is designed for experienced to expert Rev fliers !
Based on the original Rev 1.5 design, the John Barresi Signature Series ZEN is the ideal choice for any hard core precision or competition flier looking for the ultimate super ultralight wind kite.
---
Photos of the Revolution B-Series Zen...
David Hathaway took this one at South Padre Island in late January of this year. Thats in fact "prototype numero uno"...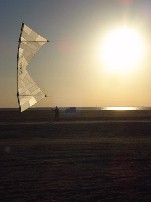 David's wife, Meaghan Burford, took the following four photos of the FINAL prototype at Lincoln City's Fall Fest!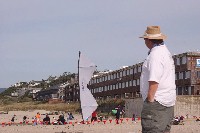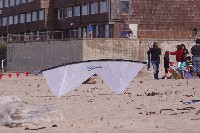 Thank you David and Meaghan for these great shots!
Revolution B-Series Zen
Reg. Price: $490.00 (Kite ONLY )
Colors available: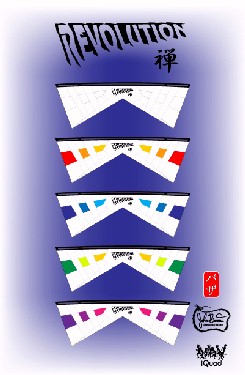 Colors as shown above from top to bottom...
White
Red Fade
Blue Fade
Green Fade
Purple Fade
---
Other color combinations are available by special order only and will cost more. Call or e-mail for details!
---
Skill level: Experienced - Advanced
Wind Range: 0-4 mph
(Specially designed frame for ZEN)

Wing Span: 108 Inches / Height: 37"
Frame: Specially designed hybrid frame


The sail is paneled with one specific goal in mind... To keep the sail fully loaded in flight in all all positions of flight; forward, reverse, side to side, upright or inverted flight!

The B-Series Zen is best to be flown on the Rev 15" extended handles.
---
Zen Video...
See FULL size video...
http://www.youtube.com/watch?v=ZYjiY7lusxA
The new B-Series Zen in action on 10/22/09, final prototype as flown by 12-time US national multiline champion John Barresi... Co-designed with master kite maker Bazzer Poulter, the Zen is based on the original B-Series Pro (1.5), resized and modified as a full (Rev 1) size with all the attributes that have made the B-Series so popular all over the world.

As a full size kite, the Zen provides greater lift and loading ability, a true precision kite!
This footage shows the kite in approximately 3mph, using a Race frame configuration, and you can see it's incredible reverse flight capability in any wind condition, as well as superior light wind abilities.
Revolution B-Series Zen
WSK Price: $440.00**
(kite ONLY)
Deposit of HALF down to order, then balance due upon shipping to you!
LIMITED TIME
SPECIAL on all accessories for the ZEN
25% OFF Handles
Rev extended 15" Handles: $40.00 $30.00
Plus get Line Set for HALF OFF!

LINE SET HALF OFF with purchase of B-Series Zen... For a limited time we are offering HALF OFF for B-Series ZEN Line Set, when you purchase a Revoltution B-Series Zen


Your Choice of one of the following:
WSK Premium Spectra Linesets
60#/60' $52.00 $26.00
60#/75' $60.00 $30.00
60#/100' $72.00 $36.00
60#/120' $82.00 $41.00

80#/60' $60.00 $30.00
80#/75' $69.00 $34.50
80#/100' $84.00 $42.00
80#/120' $96.00 $48.00
**Plus actual shipping cost from Windstar Kites to the customer (usually between $15.00 - 19.00 for most US destinations)

** No further discounts allowed!
note**Special offer on Rev B-Series ZEN is for a limited time only, and accessory prices are good only when purchasing a Rev B-Series Zen. Limit one special price per item line set & handles, per customer.
E-mail Con Engels for pricing on more than one Rev B-Series ZEN!

---

Photo captured from Revolution B-Series Zen video...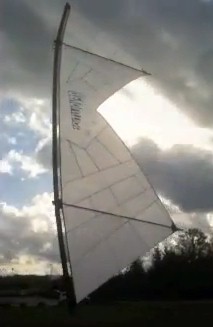 To read more background about the Revolution B-Series Zen, see the article written by David Hathaway...