Wind range: 3-20 mph*...
*Dependent upon rods used (see below)

PLEASE NOTE:
The B-Series is designed for experienced to expert Rev fliers !
Signature Series - John Barresi
Based on the original Rev 1.5 design, the John Barresi Signature Series is the ideal choice for any hard core precision or competition flier... After 17 years of competition and nine national quad line championships, John has utilized a number of modifications and features which make this a true high performance package.
The sail is paneled with two specific goals in mind...
1. The grey panels are replaced with screen for the vented model, keeping your vented and standard kites aesthetically similar.
2. As the standard sail stretches over time, the grey panels will actually begin to channel wind vertically, increasing precision.
To keep you competitive, the B-Series comes with two frames... One 2-wrap (SUL) and one 3-wrap (UL), giving you the versatility of being able to switch your frames based on the current wind, and you can also slide your SUL leading edge rods in parallel with the UL leading edge when the wind is up, effectively doubling your leading edge strength.
The B-Series handles are 13" long, and come with a pre-tied adjustment knot system which enables you to increase or decrease the reverse control.
Last but not least, the B-Series also comes with a weight kit... Two 2 gram lead weights fit neatly into the end of your spars, and are secured with a short tail.
B-SERIES (KITE ONLY)
Reg. Price: $328.00
Rev B-Series (Kite Only)
(with 2 frame sets as noted)

---
B-SERIES PACKAGE
Reg. Price: $358.00
(kite with handles and two complete frame sets, plus special weights, manual & DVD video)
Call for Colors available: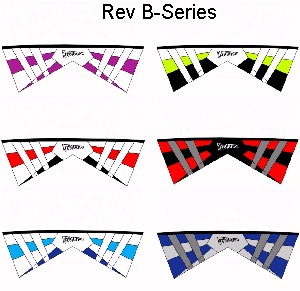 Note: All colors available in Standard Sail, and Full Vented.
Links below show larger images...
B-Series White Light Blue Dark Blue
Above colors also available in Mid Vent and Full Vent
Skill level: Experienced - Advanced
Wind Range: 3-10 mph (2 wrap frame)
4-16 mph (3 wrap frame)
6-20 mph (3 wrap frame w/2 wrap LE added)
Wing Span: 91"
Frame(s): 2-wrap 1/4" spars
3-wrap 1/4" spars
WSK Price: $315.00
B-SERIES (KITE ONLY)
SPECIAL WSK Price: $299.00
KITE ONLY (with 2 frame sets)**

---
B-SERIES PACKAGE
SPECIAL WSK Price: $335.00*
Plus 1/2 off on Line Sets for B-Series Package for a limited time*
SPECIAL...
Plus get Line Set for HALF OFF!
B-Series PACKAGE Includes:
Kite with Handles,
two complete frame sets,
plus special weights
Manual & Video
(line set sold separately) see below...
LINE SET HALF OFF with purchase of B-Series... For a limited time we are offering HALF OFF for B-Series Line Set, when you purchase a Rev B-Series
Your Choice:
WSK Premium Spectra Linesets
80#/75' $69.00 $34.50
80#/100' $84.00 $42.00
80#/120' $96.00 $48.00
**Plus actual shipping cost from Windstar Kites to the customer (usually between $15.00 - 19.00 for most US destinations)
** No further discounts allowed!
LINE SETS:(see offer above)
with 80#/75' Premium set add $69.00*
with 80#/100' Premium set add $84.00
with 80#/120' Premium set add $96.00
(*lineset prices receive a $10.00 discount when purchased with Rev B-Series,limit one line set per JB series purchase)
note**prices on Rev B-Series is for a limited time only, and accessory prices are good only when purchasing a Rev B-Series. Limit one special price per item, per customer.
E-mail Con Engels for pricing on more than one Rev B-Series!