A sad day for Fly Pittsburgh!
On May 28, 2003 Fly Pittsburgh
lost our oldest and dearest member of the club, Frank Olson! He was 91 years young.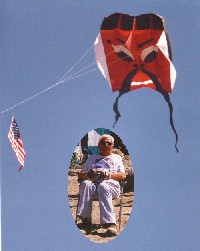 (click photo for enlargement)
Frank Olson will be missed!
May his spirit live on within those that knew him. Please think of Frank when you fly your kites!

Frank (In loving memory),
With your loss, it is a double edge sword to me, as on one hand I will miss you dearly, knowing that I will not be seeing you on the flying field any more, with your greeting to me "How's it going Junior?". Even though I am a Jr to my Dad, no one ever called me by that name, and it was very enduring to me that you called me such.
Frank, you lead a very good life, and were an inspiration to us all on the flying field. You made your own kites, which included diamond kite arches, a 90' USA ring kite, and your Fu Man Chu parafoil of which you are most famous for. You were my traveling buddy and co-pilot who accompanied me on various kiting trips, such as AKA Wildwood convention in 1997, and again to the Muncie convention. You also were my room mate for a few of the Ice Flies in Erie, and also the Ohio Cup a few years back. I will miss those times with you!
On the other hand, I am a better person for knowing my friends and family, and even when I lose my friends to death I carry with me all the memories I have of them, and so they still live on because I keep their spirits alive in how they have affected my life and changed me forever. And, I am a better person because of knowing you Frank!
Your friend always,
Junior (Con Engels)

Frank's 90th Birthday!


Club Group Photo for Frank's party
(click photo for enlargement... 105 kb in size)

Frank Olson, our Club Patriarch!!!