Windstar Kites

of

Greater Pittsburgh North
**Have You Bookmarked this site yet?**

Also available in Adobe Acrobat

KiteSafetyFieldCard.PDF
FLY SAFELY!
(some safety suggestions from the American Kitefliers Association)
Never fly near power lines or try to free a kite
caught in a power line. Call your local power
company instead. Power Line damage shown...
Click the images above to get a closer view of
what happens to a kite when caught in a power
line.The tassle you see was a carbon spar!
(Photos compliments of Peter de Jong, NL...
photographer unknown)
Never fly in wet or stormy weather.
Never use metallic flying line.
Do not fly near trees, streets or airports.
Fly on a field free of potholes and debris.
Never let your kite or line touch bystanders.
Wear gloves and use extreme caution when
flying large kites. Never leave them
unattended.
Fastening yourself to your kite can lead to
painful, serious injuries.
---
Wind and Weather, helpful info!!!!!


Estimating Wind speeds!
Modern kites of today are made to fly in a variety of wind ranges. There are many different types of kites, from ultra-lights to power kites. It is important that the flier knows how to estimate wind speed. For those kite fliers who do not have a wind meter, the following is a quick reference guide.
| | |
| --- | --- |
| WIND SPEED | APPROPRIATE KITES |
| 2 to 3 mph: smoke drifts .................. | Zero wind & Ultra light kites |
| 4 to 7 mph: leaves move on trees ..... | Ultra/Light wind, most large foils & large Power kites |
| 8 to 12 mph: small flags stand out ..... | most kites fly, low wind range of most Box & Cellular |
| 13 to 18 mph: tree limbs move ......... | upper wind range of most kites |
| 19 to 24 mph: small trees sway ........ | upper to top wind range of specialized kites |
| 25 to 31 mph: large trees move ........ | specialized (vented Sport kites, smaller Power foils) |
Keep in mind that each kite design has it's recommended wind range. It can become dangerous when a smaller adult or child attempts to fly any kite in it's upper to top recommended wind range, especially in gusty wind conditions. It is a good rule of thumb, to avoid flying any kite above it's recommended wind range.



(this link brings you to a site that shows wind
speed in knots. Below is a conversion chart.)
5 knots = 5.8 mph
10 knots = 11.5 mph
15 knots = 17.3 mph
20 knots = 23.0 mph
25 knots = 28.8 mph
30 knots = 34.5 mph
35 knots = 40.3 mph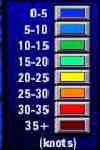 Fly Pittsburgh Kite Club has it's Home Field at
Coopers Lake Campground
Slippery Rock, PA
Slippery Rock Weather Conditions:
---
Shipping & Handling RATES
---
E-Mail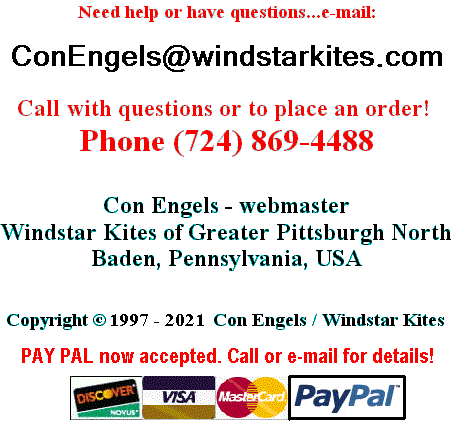 Special WSK Prices listed on this and other pages within this site are for in stock items only. And, although every effort is made to maintain current listed prices, Windstar Kites reserves the right to change prices at any time, without notice! Please confirm prices when ordering.