Prism Zephyr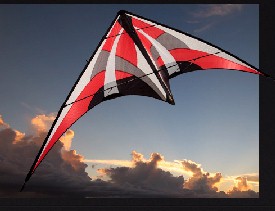 (click image to see enlargement of "Zephyr")

Zephyr DESIGN FEATURES:
Yo-Yo Stoppers
The Yo-Yo is an advanced trick in which you flip the kite on its back and then all the way around so that the lines are wrapped one or more times around the kite. Many other radical combinations are possible based on the yo-yo. The two rubber fittings on the leading edge between the upper and lower spreader elbows act as hooks to catch the lines in a position that lets you steer the kite around in a rolled-up position before you unroll it with a crowd-pleasing flourish.
Spine Weight
The T-shaped steel weight included with your Zephyr allows you to change the balance of the kite for advanced tricks such as yo-yos and other "pitch unstable" moves in stronger winds. The removable weight slides into the tip of the spine and is secured by the Velcro strap around the tail. It adds 17 grams (.6 oz) to the kite and moves the center of gravity slightly lower, giving the kite a more radical edge and allowing you to flip it on its back and into yo-yo maneuvers with less effort. Adding weight also tames the kite in stronger winds because the wind has to do more work to keep it flying. With weight, your Zephyr will fly slower and pull less hard as the breeze comes up, a nice bonus that lets you fly the kite in a wider wind range. Advanced pilots typically use the weight in winds above 10 mph, or with a particularly aggressive flying style.
Molded Shell Case
The Zephyr package comes complete with a custom designed shell case to protect your investment. If you're traveling fast and light, a fully stuffed kite bag is the last thing you want to haul around. The Zephyr case has room for your two favorite kites inside plus three linesets, spare parts and a few accessories, perfect for those quick trips or when space is at a premium. Fits easily in an overhead bin for airline travel and securely protects from kite-eating baggage handlers if you'd rather check it.
Adjustable Leechline
The leechline runs inside the trailing edge and is tensioned and tied off at the wingtips, it stabilizes the trailing edge of the sail and prevents it from fluttering in flight, keeping the kite silent. With the leechline loose, the sail will buzz in flight, especially in stronger winds. By adjusting the tension on the leechline you can set the kite up for your preferred flying style. We tend to prefer the tight precision and reduced pull of a loose leechline, but some pilots don't like the noise and prefer the silky-smooth feel of a silent setup.
Adjustable Bridle
The bridle geometry is easy to adjust for light to strong winds. It is not necessary to move your bridle from the factory setting, but doing so will let your kite fly in the widest wind range. Simply slide the friction knots toward the "light wind" setting for lighter breezes or towards the "strong wind" setting for windy days. Very small adjustments (1/8" - 1/4") make a big difference. Limit knots on the bridle will keep you from over-tuning the kite out of flying range.
Two Linesets
Serious pilots collect different line lengths and strengths to maximize performance in different winds. Short, light lines minimize weight and drag to keep kites aloft in light winds, and longer, heavier lines allow a bigger wind window and won't break as the kite starts to pull. In the strongest winds, heavier lines also slow the kite down to reduce pull and speed. The Zephyr package includes two high performance Spectra linesets with wrist straps and winders, a 50# x 75' set for light winds up to 6mph, and a 90# x 100' set for all-purpose use.
Zephyr colors: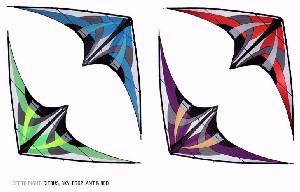 (click image to see enlargement of "Zephyr" colors)

Zephyr Specs:


WIND RANGE: 1 - 17 MPH
SKILL LEVEL: Intermediate to Competition
FRAME: SkyShark P100, 3PT Wrapped carbon Graphite
WING SPAN: 92.5 INCHES/235 cm
Speed: Moderate
Pull: Medim
Sail: Icarex Ripstop Polyester, Mylar Laminante
Flying Lines included (2 line sets):
75' x 50 lbs Spectra
100' x 90 lbs Spectra
WSK Special Price: $199.95 (WSK list: $240.00)

Colors available (see above photo):
Citrus (Greens/Gary/Black)
Sky (Blues/Gray/Black)
Eggplant (Purple/Orange-Gold/Gray/Black)
Red (Red/Gray/Black)

Features:

* Yo-yo fittings on leading edge catch your lines and let you fly normally in and out of yo-yo maneuvers
* Lightweight sail and frame for low-wind performance
* Removable spine weight adjusts weight and balance to suit your flying style
* Icarex polyester and Mylar laminate sail won't absorb moisture on damp days
* High-performance SkyShark wrapped graphite frame
* Blended no-snag leading edge pocket design
* Rugged molded case protects two kites, linesets, spare parts and accessories
* Two Spectra linesets included to maximize your wind range: 50# x 75', and 90# x 100'

MORE about the Zephyr:
The Zephyr is your dream machine if you appreciate the finesse of light wind flying and the subtler finger and wrist control you´ll develop after you master the basics. While not a fragile ultralight for zero-wind flying, it's designed for those lighter, sweeter winds you'll crave as you learn to stall, slide, and control the kite gracefully at the edges of the envelope.

The Zephyr is beautifully balanced, as comfortable floating on its back as it is in a stall. The hand-wrapped SkyShark graphite spars we use in our top-end competition kites give you instant response for a masterful touch. Highly maneuverable in all attitudes, you'll execute the most challenging moves with utter control. We designed no-snag leading edge pockets and included yo-yo stoppers so the wing rolls around itself easily for all the latest aerobatic moves. The Zephyr also features a 17 gram removable spine weight so you can change the balance point for different winds and flying styles.

Because lightweight lines are key to low-wind flying, we include two Spectra linesets: one 90# set for all-around use and one shorter, lighter 50# set so you can ghost around on those days when nothing else will fly. The custom-molded shell case has room for your two favorite kites plus lines, spare parts and accessories so you can easily pack everything you need for that perfect day in the perfect wind.