Windstar Kites
of
Greater Pittsburgh North
"BILLY THE CRAB" Bouncing Buddy by HQ DESIGNS®

"Billy The Crab"
(click for enlargement)

Billy The Crab "Red" Bouncing Buddy
Inflatable ground display from HQ Designs. Powered by the wind and staked to the ground, he bounces and moves along the ground in a fun and humorous life-like way. Great for the beach or your yard. Fun to watch and will draw attention at any event. Kids love Billy The Crab, as it replicates the motion of a real life crab.

Width: 124 cm / 41"
Length: 105 cm / 49"
Sail: Ripstop-Nylon
Wind: 12 mph and up (3+ Bft.)

WSK List Price: $58.99
WSK SPECIAL Price: $53.00


"Billy The Crab"
(click for enlargement)


Billy The Crab "Orange" Bouncing Buddy
WSK List Price: $58.99
WSK SPECIAL Price: $53.00
---

Check out some of our other great items for adding to your
GROUND DISPLAY...
Banners & Flags... Our NEW curve top feather banners are high quality printed feather banners.

...

...
...
---
Spinsets & Spinsocks...
Spinsocks® & Spinsets® are easy to hang nearly anywhere, they even indicate wind speed and direction!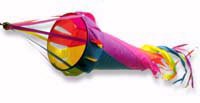 GroundDisplay.htm
---
Kite Selection at Windstar Kites...
Shipping & Handling RATES
E-Mail

---
Special WSK Prices listed on this and other pages within this site are for in stock items only. And, although every effort is made to maintain current listed prices, Windstar Kites reserves the right to change prices at any time, without notice! Please confirm prices when ordering.